DataView for Xojo by piDog Software
DataView is a Listbox control subclassed from piDogScrollingCanvas
piDog DataView is a fast and flexible list viewer by piDog Software. It is an easy to use, drop-in replacement for Xojo's Listbox control, providing more capabilities and a more native feel. Check out the features!
1.15.6.1
[Win] Removed an errant "®" from source code preventing running on WIndows OS's
1.15.6.0
[All] Added DragReorderRowsOut event to provide the opportunity to choose to delete dragged rows or restore them
[All] Added LazyRendering option to provide smoother scrolling by allowing row rendering to be deferred if a frame is taking too long to render
[All] Fix for index cells not highlighting text correctly.
[All] Now clears Selections when changing CellSelectionMode
[All] Fixes for cell Vertical alignment and positioning
[All] Fixes for cell text positioning shift when changing column size where text becomes truncated
[All] Fix for last row not rendering gridlines when partially visible
[All] Fixed some issues where a right click during a drag could cause the drag to become stuck in place
[All] Fixes for lag when setting many cell heights in same column
[All] Focused cell now follows drag reorder and column reorder
[Win] Fix for popupmenu raising event with old value on windows.
[Win] Fix for extra pixel visible next to vertical scrollbar
[Win] Fixed some issues with column dragging under Windows OS with screen scaling >1
[Win] Fix for container rendering under Windows on Xojo pre-2018
[Win] Partial Fix for CellContainer flicker on Windows with older Xojo versions
[Win] Fixes an issue with scrolling after a cellcontainer has had focus
[Win] ctrl-arrow now scrolls the view
[Win Linux] Added arrows to native scrollbars on Windows and Linux
I am often asked how DataView compares to Listbox in terms of adding rows.
Here's a comparison adding 100,000 rows of 3 columns:
macOS 64bit:
– ListBox: 3 Seconds
– DataView: 3 Seconds
Windows8 64bit:
– ListBox: 43 Seconds
– DataView: 2 Seconds
Linux Mint 64bit:
– Listbox: 2 Seconds
– DataView: 3 Seconds
Of course DataView also includes some on-demand options allowing a list of 5,000,000+ rows to load instantly. It only depends on the speed of your back-end.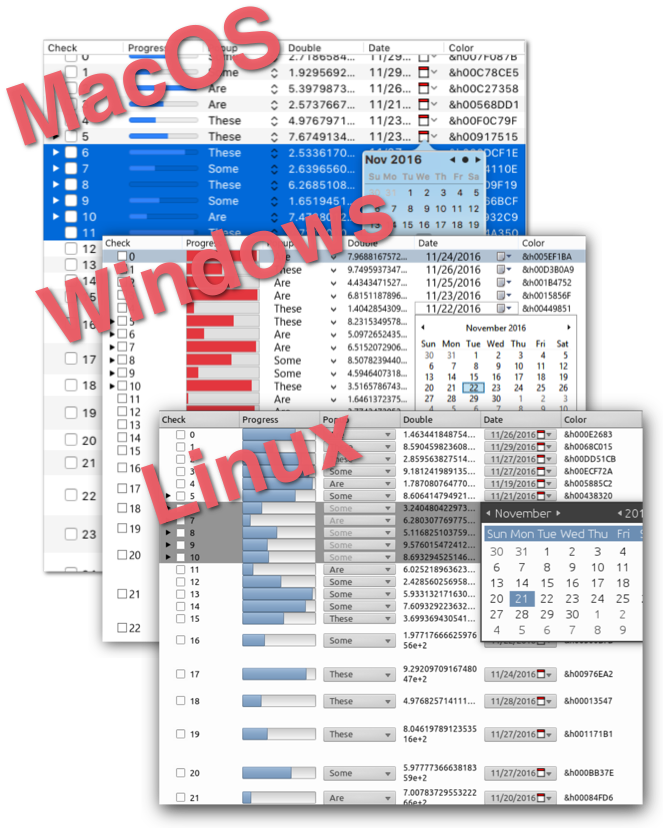 Download the demo project to see how it works. If you decide to use it in a production app, just buy a license code and plug it in.
DataView and piDogScrollingCanvas
Mac/Windows/Linux
32bit and 64bit
Published:
March 11, 2021
Includes all the piDog Modules!