DataView for Xojo by piDog Software
DataView is a Listbox control subclassed from piDogScrollingCanvas
piDog DataView is a fast and flexible list viewer by piDog Software. It is an easy to use, drop-in replacement for Xojo's Listbox control, providing more capabilities and a more native feel. Check out the features!
1.15.5.1
[Demo] Improved Inspector behavior
[Demo] Removed items from main demo that are available in Inspector.
[Win] Fixed a crashing bug when closing a container control with a DataView embedded.
[All] Fixed FloatingGroupRows behavior when no childRows visible
[All] Clicking text in a checkbox cell now checks/unchecks checkbox
1.15.5.0
[Win] Fixed potential crashing bug on window close. Important Fix!!!
[Win] Fixed potential exception when tabbing out of last cell with container focused
[New] Reworked several aspects of scrollers. Primarily for Window and Linux.
[All] changes to improve handling of focused cell when the parent folder is collapsed
[All] ScrollerOnLeft now adjusts first column properly to avoid obscured content
[All] Scrollwheel deltas now passed Byref to allow modification of the delta values
[Windows/Linux] Scrollwheel deltas now more reasonable with long lists
[Mac] Native Scrollers now work with no scroller slots again.
I am often asked how DataView compares to Listbox in terms of adding rows.
Here's a comparison adding 100,000 rows of 3 columns:
macOS 64bit:
– ListBox: 3 Seconds
– DataView: 3 Seconds
Windows8 64bit:
– ListBox: 43 Seconds
– DataView: 2 Seconds
Linux Mint 64bit:
– Listbox: 2 Seconds
– DataView: 3 Seconds
Of course DataView also includes some on-demand options allowing a list of 5,000,000+ rows to load instantly. It only depends on the speed of your back-end.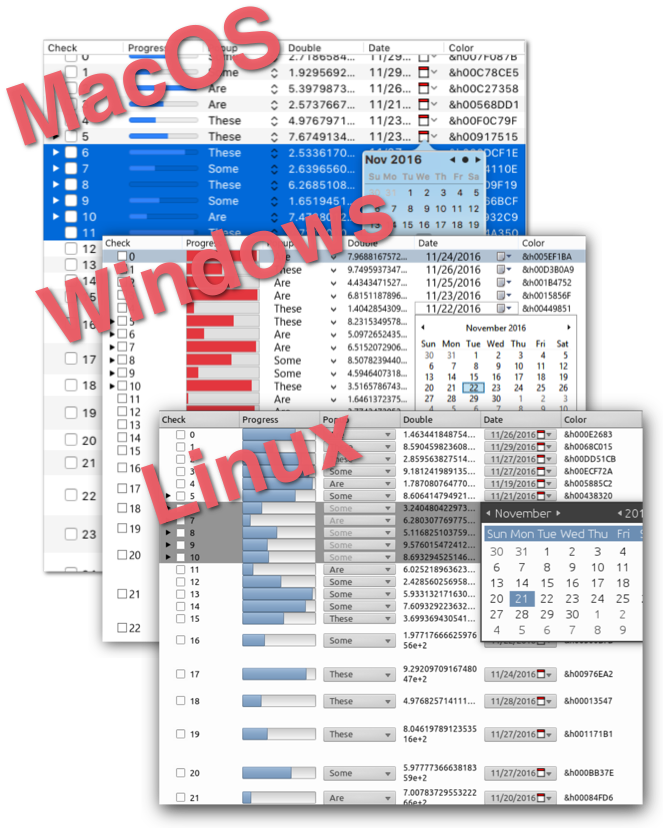 Download the demo project to see how it works. If you decide to use it in a production app, just buy a license code and plug it in.
DataView and piDogScrollingCanvas
Mac/Windows/Linux
32bit and 64bit
Published:
October 29, 2020
Includes all the piDog Modules!